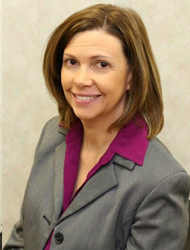 While completing her optometry degree, Dr Conti was a member of the Student Optometric Service to Humanity and participated in a mission trip to Dominica, West Indies. Dr Conti was awarded Clinical Excellence while at The Eye Institute. Her externships include William Feinbloom Low Vision Center; Naval Regional Medical Clinic, Quantico, Virginia; and a private pediatric practice in Florida.
Dr Conti is a member of the Delaware Optometric Association and the American Optometric Association, and has many years of experience in treating patients of all ages and for various eye conditions such as glaucoma, dryness of the eyes, blepharitis ...and is especially experienced in fitting soft and rigid contact lenses for special eye conditions such as keratoconus and post-corneal transplant surgery.

To setup an appointment with Dr Conti, please call Delaware Eye Clinics at 302 684 2020.