Physiology

of the Lacrimal Gland System: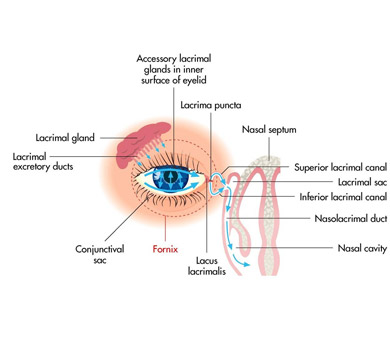 Physiology

of the Lacrimal Gland System:

There are 2 sets of glands that produce tears to lubricate the eye:

1- Accessory Lacrimal Glands: are a set of small glands located in the upper eyelid and are responsible for continuously moisturizing the surface of the eye. A decrease of production of tears in these glands is the most common cause of Dryness in the eye.
2- Large Lacrimal Gland: This gland is mainly responsible for emergency flushing of the eye, for example, when we have a foreign body in the eye or when we cry. This gland is NOT responsible for continuous hydration of the surface of the eye


The tears usually moisturize the surface of the eye and then drain to the nose through the Nasal lacrimal duct and are swallowed afterward. That's why usually when we cry we sniffle and that's why many times we can taste the drops when we use them in the eye.
When tears do not adequately lubricate the eye, a person may experience:
-Pain in and around the eye
-Light sensitivity
-A gritty sensation


-A feeling of a foreign body or sand in the eye
-Itching
-Redness
-Blurring of vision
-Fluctuation of vision
-Eye fatigue following reading or use of computer.
-Runny eyes in windy conditions


Note that these symptoms may not always be there and may fluctuate with environmental changes. Symptoms are usually worse when exposed to dry and dusty air conditions similar to being on an airplane or when the weather is dry and cold and the indoors are heated. Even when you are driving and the heater or air condition is on, the dry air hitting your eyes can cause worsening of the dryness in the eye and cause your vision to become blurry, teary and/or irritated Sometimes, a person with a dry eye will have excess tears running down the cheeks, which may seem confusing. This happens when the eye isn't getting enough lubrication. The eye sends a distress signal through the nervous system for more lubrication. In response, the eye is flooded with tears from the back-up gland (called Lacrimal Gland) to try to compensate for the underlying dryness. However, these tears are mostly water and do not have the lubricating qualities or the rich composition of normal tears. They will wash debris away, but they will not coat the eye surface properly. In addition, because these emergency tears tend to arrive too late, the eye needs to regenerate and heal and treatment is necessary.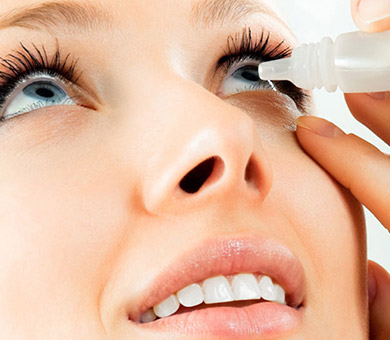 Dry

Eye Testing

Wavefront guided Laser Vision Correction technology was originally developed for use in high-powered telescopes to reduce distortions when viewing distant objects in space. Using this technology, Dr Jaoude can detect and measure the optical distortions unique to the entire optical system of your eye. Light travels in a procession of flat sheets known as wavefronts. Gentle wavefront lights enter the eye, pass through the entire optical system (cornea, lens and retina) and are then reflected back into the wavefront analyzer.

The wavefront analyzer compares the reflected wavefront with the original unaltered wavefronts. This produces a fingerprint of your vision. This information is then transferred to the excimer laser and is used as a guide to reshape the cornea during the laser vision treatment.
What

is the Advantage of Wavefront LASIK or PRK?

In the past, laser vision correction patients have occasionally complained about their night vision. Of course, these symptoms can even be present in people without LASIK or PRK whose vision is corrected with glasses or contact lenses. However, in the wavefront guided LASIK clinical studies, more people were satisfied or very satisfied with their night vision after their wavefront guided LASIK or PRK as compared to their prior level of satisfaction using glasses or contact lenses
Cataract

Frequently Asked Questions
Q: How do I know if I'm a good candidate for laser vision correction of nearsightedness, farsightedness, and/or astigmatism?
Answer
The great majority of all nearsighted, farsighted, and astigmatic Americans are potential candidates for the treatment. Typically, patients who are at least 18 years of age who have mild to moderate nearsightedness, farsightedness, or astigmatism and meet certain medical and visual criteria are suitable. However, only eye doctors, who are specially trained in laser correction of nearsightedness, farsightedness, and/or astigmatism can evaluate your suitability for the treatment.
Q: How do I know LASIK is safe?
Answer
Clinical trials of laser vision correction have been ongoing for many years. The Excimer Laser has been proven safe and effective for the treatment of the majority of nearsighted, farsighted, and astigmatism corrections. In the U.S. clinical trials' three-year follow-up, no sight-threatening complications have occurred. Over 2 million treatments have been performed in the U.S. since 1996.
Q: Is the treatment permanent?
Answer
Yes. Given the results of the U. S. clinical trials and the results reported internationally, the treatment appears to be permanent.
Q: How long does the procedure take?
Answer
The procedure itself takes about 15 minutes, and the pre-op testing approximately 2 hours.
Q: Can LASIK be performed on both eyes the same day?
Q: What % of patients experience visual side effects, especially driving at night?
Answer
At six months post LASIK less than 2% experience halos, glare or star bursting.
Q: Is LASIK ever covered by insurance?
Answer
Most insurance policies consider LASIK a cosmetic procedure and hence do not cover LASIK. However some insurance companies may partially cover LASIK. As a courtesy, we will be happy to check your specific policy.
Q: How old do you have to be for LASIK and is there a cut off age?
Answer
You must be 18 years of age or older, and there is no age limit.
Q: When can I return to work?
Answer
Most patients may return to work one day following LASIK.
Q: Are my eyes patched after the procedure?
Answer
One day after LASIK. Do not let dirty sweat go on the surface of your eye. You need to avoid swimming and hot tubs for 3 weeks after surgery to prevent infections.
Q: How many people have had LASIK?
Answer
Millions of people in the US and around the world have had LASIK.
Q: What is the chance of getting 20/20 vision?
Answer
It depends upon your prescription. Almost all of our patients are able to achieve vision that they are happy with. Most can have an enhancement if needed. Very few still wear corrective lenses after LASIK.
Q: What is the chance of needing an enhancement?
Answer
It depends on your prescription but a good estimate would be about 10%.
Answer
Immediately following LASIK.
Q: Is Dr Jaoude Board Certified?
Answer
Yes. Dr. Jaoude is certified by the American Board of Ophthalmology, and the National Board of Medical Examiners.
Q: Can I have MonoVision LASIK?
Answer
Yes. With MonoVision LASIK one eye is corrected for close vision and the other for distance vision. 65-75% of patients can adapt to MonoVision. As a courtesy we can test you to see if you can adapt to MonoVision with contact lenses before deciding on Monovision LASIK surgery.
Q: Can I swim and scuba dive following LASIK?
Answer
Yes. 3 weeks following your procedure.
Q: What are the chances that I may not see as well after my procedure?
Answer
There is an extremely small chance of significant decrease of best-corrected visual acuity.
Q: If I am pregnant or nursing how long must I wait to have LASIK?
Answer
Three months not pregnant and/or not breast-feeding.